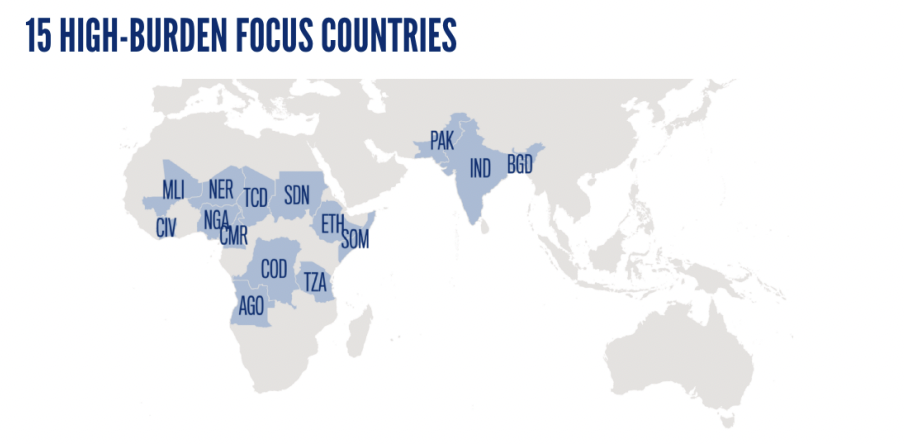 Contact An Expert On This Topic
Alexandra Michel
Research Associate
amiche17@jhmi.edu
Introduction
Pneumonia and diarrhea kill more young children worldwide than any other disease, claiming over 1.22 million lives each year.

Over 70% of under-5 deaths from pneumonia and diarrhea occur in just 15 countries (pictured above).

The COVID-19 pandemic fueled the largest continued decline in global vaccination coverage in three decades, which threatens decades of progress in global child health.
What are GAPPD indicators?
In 2013, the WHO and UNICEF published the integrated Global Action Plan for the Prevention and Control of Pneumonia and Diarrhea (GAPPD), a call to action with the goal of achieving a global 75% reduction in the incidence of severe pneumonia and diarrhea in children under 5 by 2025. GAPPD outlines a set of core interventions to successfully prevent, protect, and treat children who are at risk of serious illness or death due to these two diseases.
A country's overall GAPPD score reflects the average of all 10 indicators.
The Pneumonia Score reflects the average of seven pneumonia-specific indicators

The Diarrhea Score reflects the average of five diarrhea-specific indicators

Of the 10 indicators, two are effective against both diarrhea and pneumonia
GAPPD scores for the 15 countries with the highest number of under-5 pneumonia and diarrhea deaths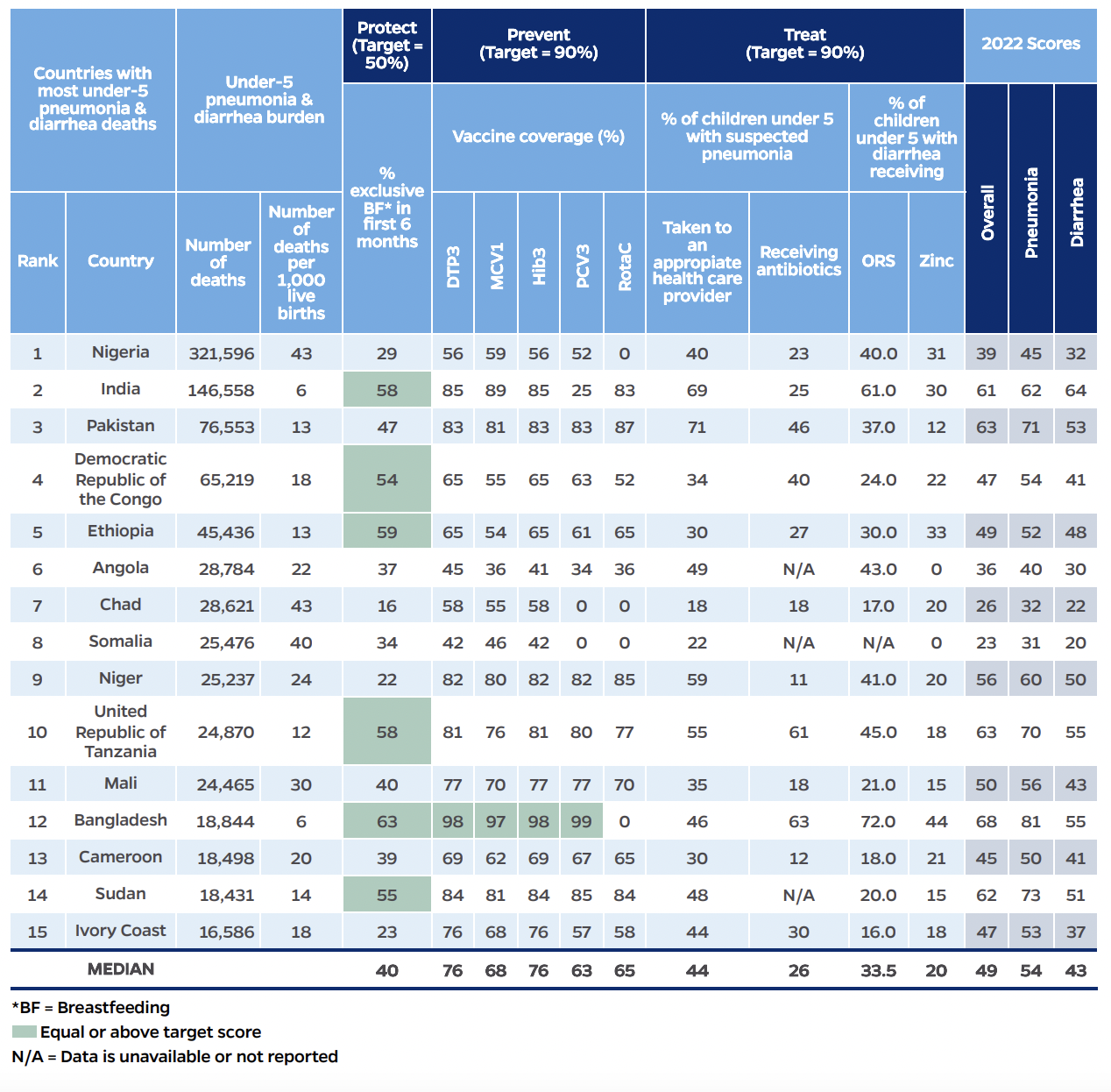 The takeaway
In 2022, all 15 countries failed to meet the Overall GAPPD score target of 86%. The mean Overall GAPPD score across all 15 countries was the same as last year at 49%.

Six of the 15 focus countries experienced decreases in immunization coverage, which puts children at risk of these serious diseases.
Read the full report here, as well as an executive summary, country profile pages, and past reports: https://www.jhsph.edu/ivac/resources/pdpr/
For more information
VoICE study summaries on pneumonia and feature on pneumonia
IVAC YouTube: "The Human Cost of Pneumonia and the Power of the PCV: Stories from Somalia and India"
IVAC World Pneumonia Day YouTube playlist and Niruta documentary
Partner resources
The Rota Council
Rotavirus Disease and Immunization: Series of Briefs
Six rotavirus-focused briefs cover epidemiology and disease burden, available vaccine products, the impact of vaccination, economic costs of rotavirus disease and the value of vaccines, safety, and introduction and coverage status.
Immunization Agenda 2030
The Immunization Agenda 2030 (IA2030) scorecard is a publicly available interactive tool displaying data that enables global, regional, and country-level stakeholders to monitor the status of each indicator in the IA2030 Framework for Action. The scorecard supports coordinated operational planning, ownership and accountability, and communication and advocacy.
Every Breath Counts
Pneumococcal Conjugate Vaccine (PCV) Scorecard
In a scorecard released in 2022, Every Breath Counts ranks the 40 countries that are home to 94% of the 1.63 million child lives that could be saved with PCV coverage by 2030, according to the Vaccine Impact Modelling Consortium (VIMC).